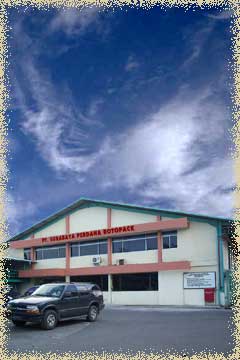 PT. Surabaya Perdana Rotopack (SPR) has been established in early 1986, located at Jl. Tambak Sawah No. 19 Waru, Sidoarjo, East Java, Indonesia.
Our core business is converting & flexible packaging, with rotogravure printing (a photomechanical process by which pictures are transferred onto a cylinder so that the image can be transferred to a continuously moving sheet of paper or plastic) and laminating (the application of plastic film, printed or non-printed, to the surface of material to enhance packaging appearance and durability) process. We serve both domestic and international market, including USA, Asia, Africa and Middle East.
Customer satisfaction is a target and a pride, for the good of both customers and us. That is our company vision. To implement that idea, SPR is now managed by proficient and professional managers, which gives us a very significant progress.
From time to time, we always try to increase our printing capacity. At the beginning of year 2000, our printing capacity reach more than 624,000,000 m2 per year, which also supported by equal capacity to complete the next processes (dry laminating, extruder, slitting, etc.). We also have a laboratory for Research and Development, which proves that we has a strong commitment to consistently improve our products quality.
At present, we produce many kinds of packaging for almost all kinds of products (meat and cheese, frozen foods, coffee, snacks and confectionery, dry nuts, detergents, cigarette paper, etc.).